Maximising Dry Matter Intakes - Verti-Mix 3101
24 July 2017
Three years ago, Somerset farmer Darren Coombes switched from using an off-the-shelf parlour concentrate to one tailor-made to balance the TMR and support higher milk yields without fertility loss. Ensuring not just high quality in the feeds, but also high DM intakes has been important.  Factors such as the physical and nutritional qualities of the TMR ration, its consistency and physical presentation as well as the feeding practices on the farm have all had roles to play in supporting yields and fertility.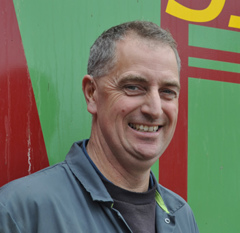 At Manor Farm in Shapwick, Darren Coombes has been gradually increasing herd size and is currently milking 400 cows, with a average yields of 10,200 litres/cow. In the summer months, cows will spend time out grazing for part of the day.
The milking herd is kept as one group receiving the same TMR and topped up according to yield in the parlour. Darren explains: "We like to try and keep things simple. Good labour is hard to find around here, and so it's easier to manage them as one group."
Back in 2014, the herd was averaging 9,450 litres/cow but Darren believed, with the good genetics in the herd, and the good management on the farm, that there was scope to achieve more.
So he switched from buying an off-the-shelf parlour concentrate and enlisted the services of independent dairy consultant Nick Beard of Dairy Diagnosis. Now, a customised parlour concentrate is fed, manufactured by Lloyds Animal Feeds in Shropshire, to complement the farm's TMR.
The TMR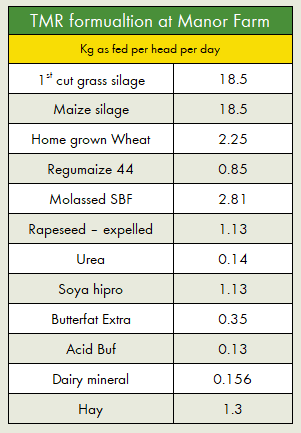 The TMR includes grass and maize silages, wheat and hay – all grown on the farm. (See table)
Darren explains: "We rotate the grass with maize and wheat, and reseed leys in the autumn after cereals. We aim to make enough grass silage from one cut - this year it was taken on 1st May off 375 acres, with 100 acres being new leys."
Darren says there is 'more milk' in young leys: this year's silage was 28.9% DM and analysed out at a D Value of 71.9, ME 11.5 MJ/kg DM and protein of 15.3%.
Darren has never liked to include straw in the TMR: "There's no feed value in it, it just dilutes the ration and makes yields drop every time we've tried it. Hay provides structural fibre plus has some nutritional value."
Hay is made off 40 acres of permanent pasture and this year the usual one cut was taken in mid-June, and made into big square bales. When adding into the mixer wagon, the strings are cut, and the required amount easily grabbed.
Nick adds: "For an 11,000 litre cow, fibre is only in rations for its benefit to rumen function. It serves no nutritional purpose, so only a minimal amount is needed."
TMR formulation at Mason Farm
Ration presentation has a big influence on how much is consumed, Nick explains: "Feeding a high quality ration is one part of supplying the cow with her nutritional requirements. The other key part is ensuring she eats it!
Mixing the TMR
"When making a TMR, it's important not to leave the wagon churning for too long else it destroys the ruminal fibre and creates a porridge! But conversely it needs to be left long enough to achieve a consistent mix."
Darren first started making Total Mixed Rations 28 years ago. His first two machines were both paddle mixers. But as herd size grew he needed a larger capacity mixer and there came a time when his 16m3 mixer was too small and he had to move to a tub mixer to get the capacity. Since then he's never looked back, he says.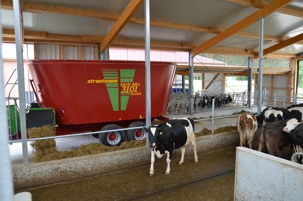 He was the first farmer in the south west to have a Strautmann diet feeder, which in 2006 were newly being imported from Germany. Pleased with their build quality and reliability, he has stayed with the brand, and last autumn took delivery of a third one (now imported by OPICO) as herd expansion required a larger size. His new Vertimix 3101 has a double auger and is fitted with a single extension to give a 28m3 mixing capacity. Another extension may be added in the future to give a further 3m3 capacity.
As from last year, Strautmann feeders are fitted with Vario2 augers - these have a unique stepped design which improves the mixing and so reduces the time taken. It also produces a 'fluffier' feed, which Darren says has increased DM intakes slightly.
Another new feature, an optional extra, is INNODUR stainless steel wear strips, which are fitted to the leading edge of the auger to reduce corrosion and add longevity. Darren thinks these are 'a great idea.'  
In addition, this time Darren opted to have magnets fitted to the augers – these are sited on the leading edges – one at the top and bottom of each auger. Darren comments: "It's amazing the number of 'objects' in the forages. I've not found any tyre wire yet, just nuts, bolts, washers, but also some nails which could do damage."
"We start mixing as we add the ingredients. The straights go in first, and then the hay as it's a lot lighter than the silages.
"Mixing time is quicker with the new design augers. So now we are ready to feed out just five minutes after the last ingredient is added.
"We make the TMR while the cows are being milked so that they always come back to fresh feed on returning to the shed."
The parlour cake
Cows are fed to yield in the parlour with a concentrate formulated with ingredients selected for their high levels of bypass protein and bypass starch, and which complement the home-grown ingredients in Darren's TMR.
Nick explains: "There's already wheat in the TMR, hence ground maize is used as a supply of bypass starch in the cake.
"Amino acids are the building blocks of protein, and the relative quantities of these – the amino acid profile – is important because if key amino acids are limiting, then this limits milk synthesis.
"So Darren's concentrate contains high levels of prairie meal and protected soya – these ingredients are selected not just for their high levels of bypass protein, but also their amino acid profile.
"Darren is already feeding rapemeal in the TMR, so sunflower meal is included in the cake as a different source of RDP protein.
"Consistency is important, so the formulation of the concentrate is fixed. It is reviewed and altered, only when there's a change of forage going into the TMR."
The TMR, when fed with 6kg/day of concentrate, is formulated to supply M+45 litres.
 "The price per tonne of feed is irrelevant," says Nick. "It's cost per litre that counts. Farmers need to appreciate the big picture, and consider the nutritional quality of the formulation and whether it will support not just yields, but good levels of fertility – that's the real key to profitability."
The detail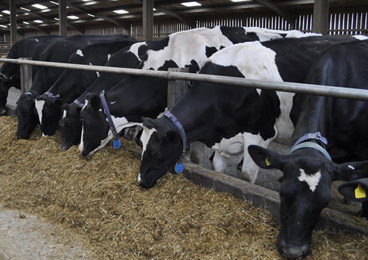 Nick says: "Fertility is always the challenge in cows which can be producing 55kg of milk in a day. But whilst the general strategy is to maximise their dry matter intakes, in detail the tactics are: 1) to improve the nutritional value of each mouthful and, 2) to get cows to take more of these mouthfuls.
"So whilst nutritionists can formulate a good concentrate for the parlour, attention to the practical side of TMR feeding is also needed. Darren always ensures good quality forages are made, clamps are tidy, feed passageways are cleaned, and a consistent TMR is mixed and fed."
Article reproduced from

  July 2017