On a roll with grass weed control
11 September 2017
Making the move to no-till crop establishment is a bold step but can see machinery requirements slashed. We talk to one Buckinghamshire outfit that has made the switch and now has just two primary tools to get crops in the ground – a 6m Cross Slot drill and a 12.3m set of HE-VA rolls.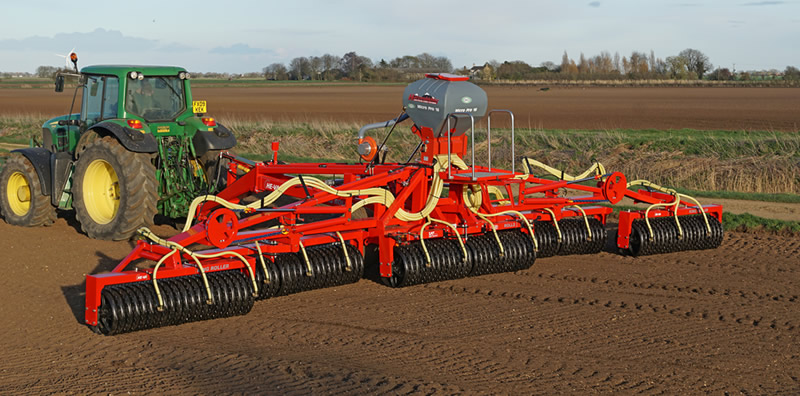 When they made the move to direct drilling three years ago the Markham brothers went all out cold turkey on traditional tillage. Working with their other two joint venture partners they sold every cultivator on the three farms and all three drills that had been responsible, up until then, for getting every one of the 1010ha (2500acres) of arable crops in the ground.
"Admittedly it was a bold step but we felt we shouldn't muddy the waters with a half-way house situation," explains Mike Markham.
"More pressingly we couldn't afford to have £100,000-worth of cultivation kit hanging around in the shed. With the Cross-Slot we opted for the drill we thought would last the test of time. Working in some pretty tough, rock hard conditions it takes some punishment sowing cover and catch crops mid summer. But that versatility comes at a cost – it's about the most expensive no-till drill money can buy."
Prior to making their decision they had done some pretty thorough research on exactly which establishment approach was right for their system. Over the previous season they had trialled 13 different drills – a range of strip-till, min-till, maxi-till and no-till. In the end it was the grass-weed situation that convinced them that a move to minimal disturbance direct-drilling was the way forward.
"We've been growing some pretty impressive crops of blackgrass here over the last decade or so and it was really beginning to impact our bottom-line. We had to do something drastic.
"Our demo trials seemed to prove that zero-tillage resulted in fewer weed seeds germinating and that's what sold the idea to us. Initially we were very worried about how untidily the crops came up but very quickly they straightened themselves out.
"The key was in having everyone on board. We're very fortunate that our drill-man – Kevin Willis – really believes in the whole no-till approach. He's been critical in making it a success."
Over the following two seasons things appeared to be going well with the Cross-Slot but, despite the reduced disturbance, it hadn't quite proved to be the panacea in grass weed control that had been hoped. Blackgrass populations had been reduced but were still felt to be having an impact on crop performance.
"The way we have our drill set up means we can apply liquid and granular fertiliser as well as slug pellets or Avadex. But what we'd found was that we needed to do more.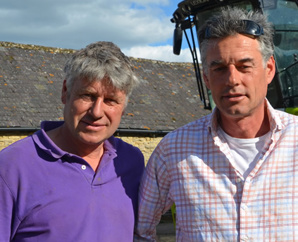 "The only tillage tool we'd kept when we made the move to no-till was a set of rolls – we knew they'd be essential in moisture conservation and slug control. But they had no granule applicator and fitting the pipework for one to work with the folding set-up was going to be really awkward.
"The rolls had done plenty of work so we decided the best option was to change them while they still held some value and have a new set with integrated applicator."
Having looked around at the options, the joint venture finally plumped for a 12.3m set of HE-VA King-Rollers with an OPICO Micro Pro 16 applicator attached.
With the joint venture's farmland spread across three different holdings, transport was a key consideration and the way the HE-VA rolls fold for the road was reckoned to be a vast improvement over the standard vertical-fold set-up employed previously.
"The King-Rollers swing round in a much for sensible way and travel that much better on the road – they just feel more stable. The overall HE-VA build quality seems to be that little bit better than anything else on the market as well – we were easily convinced.
"But in truth the over-riding factor in the decision was the applicator. With 16 metering outlets it provides by far the most even and accurate surface coverage of granules that we've seen – and that was the critical factor for us in getting on top of grass-weeds. It's also really easy to set-up and calibrate."
The new set-up enabled the joint venture to take two pronged approach to applying Avadex. When drilling wheat there is the option to put slug pellets down the spout with the seed and then spin the granular herbicide on to the surface. The rolls can then be used to apply a second dose of slug bait if required. Alternatively the pellets can go on through the drill's second hopper and Avadex can be distributed with the OPICO applicator on the rolls.
"We had realised by our third season direct-drilling that ultra accurate Avadex application was going to be key in battling blackgrass, sterile brome and wild oats," says Mr Markham.
"The new rolls provided us with a way of ensuring that happened in combination with minimal surface disturbance from the drill. In just one season we've seen problem weed populations slashed significantly as a result."
"Whether that plays out into improved yields is too early to tell but certainly in the worst patches where wheat had dropped to 5-6t/ha things are now much improved. We're definitely on a par with our five-year average and we expect to see better crop performance as we get further on top of the blackgrass."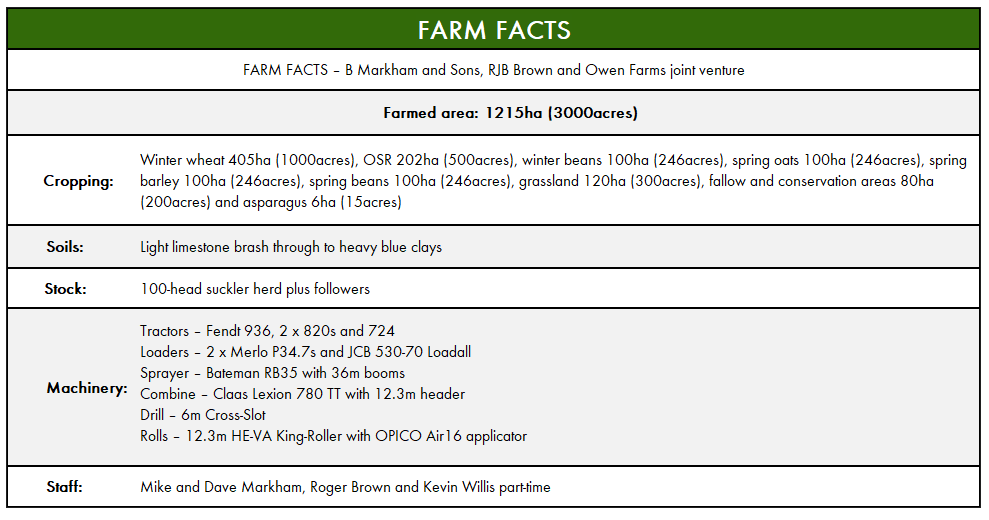 Reproduced from original article in 

 August 2017 edition.